Art
---
In recent years, composites have been used a tool to drive architectural innovation. Due to their design flexibility, university students and professional architects have shown what is possible with composites through unique structures that are not only aesthetically pleasing, but also present solutions to real-world design challenges. Radical designs that incorporate composites can help push the limits of architecture beyond the traditional cladding and secondary components currently identified within the International Building Code.
---
---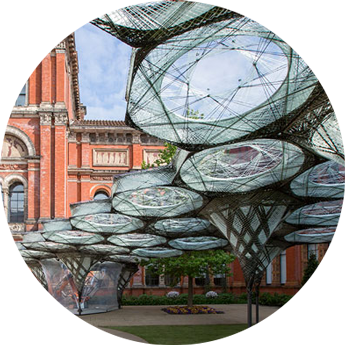 Design flexibility
High strength-to-weight ratio
Low thermal bridging
Multifunctional
Easily constructed
Applications and Products
---
Bridges
Pavilion structures
Modular building structures
Facades
---
Roads
Light panels
Columns
Art installations
---
Tunneling
Sculptures
Ornamental features
---
Case Studies
---
Elytra Pavilion
---
A team of architects and structural engineers developed a robotically woven carbon fiber pavilion displayed in 2016 at London's Victoria and Albert Museum's John Madejski Garden.
---
---
---
Flotsam & Jetsam
---
Researchers at the Oak Ridge National Laboratory (ORNL) developed and demonstrated large scale 3-D printing using 100% bio-based and biodegradable composites.
---
---
---
Stuttgart Pavilion
---
A team from the University of Stuttgart have used robots and drones to weave a unique, composite pavilion inspired by moth webs, created by laying a combined total of 114 miles of GFRP and CFRP composite.