COMMERCIAL
---
Thanks to strides made in the standards space, the use of composites in commercial buildings is on the rise. In 2009, the International Building Code's new Subsection 12 approved the use of FRP Composites as alternatives for conventional materials used in commercial building envelopes. Seven years later, ACMA released Guidelines and Recommended Practices for Fiber Reinforced Polymer (FRP) Architectural Products to address the application of composites in architecture and help architects better understand how, when, where and why to use composites. Today, composite materials are finding their way into many commercial building projects – ranging from new construction to building restorations and traditional ornamental elements.
---
---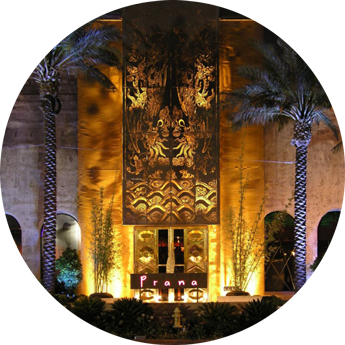 Durability in extreme environments
Light weight
Faster construction times
Structures can often be repaired in situ
Flexible in terms of color, shape and texture
Ability to be made fire-resistant
High strength-to-weight and stiffness-to-weight ratios
Low thermal conductivity
Corrosion resistance
Long lifespans
Applications and Products
---
Facades
Light panels
Exterior cladding
---
Reinforced concrete beams
Skylights
Domes
---
Cornices
Entry doors
Columns
---
Case Studies
---
Acciona Lighthouse
---
In 2016, ACCIONA Infrastructures, one of the foremost Spanish business corporations, and the Port Authority of Valencia, Spain, completed the hoisting of the city's new 105-foot lighthouse.
---
---
---
Apple Campus
---
One of the noteworthy elements of the new Apple Park is a "theater" building, a 2.8 million-square-foot masterpiece that features the world's largest freestanding carbon fiber roof.
---
---
---
San Francisco Museum of Modern Art
---
In 2015, the San Francisco Museum of Modern Art underwent a major expansion. Its new exterior may make the largest artistic statement of all, with eye-catching composite cladding panels on the east façade. Learn More
---
---
---
Bellagio Fountains
---
The Bellagio Hotel and Casino in Las Vegas is known for its famous choreographed fountain show. But most people don't know that much of the fountain's underwater structure is made of FRP. Learn More
---
---
---
Vintage Club Pyramids
---
The Vintage Club, one of America's most prestigious country club communities, replaced its wooden, pyramid-shaped accent rooftops with fiberglass. Learn More
---
---
---
Aerial Tram Station Roof
---
More than 16 years ago, fiberglass studs and nuts were installed as part of a square roof atop the Aerial Tram Station on Stone Mountain, Ga. The decision to use composites proved to be a good long-term investment. Learn More
---
---
---
Southminster Presbyterian Church
---
After nearly half a century of use, Southminster Presbyterian Church's steel window frames were in deplorable condition. Graham Architectural Products and Bayer MaterialScience (now Covestro) gave the windows a composite upgrade. Learn More
---
---
---
Bayer Office Building
---
After nearly a half century of service, three buildings on the Bayer campus (now Covestro) in Pittsburgh were badly in need of renovation. GFRP helped improve the buildings' daylight and gave them a more modern feel. Learn More