Marine
---
In 1941, five years after DuPont introduced polyester resin, the first modern composite boat was built. Composite building methods became standard on an ever-larger scale through the 1960s. Certain basic materials, such glass fibers and resins constituted technology that boatbuilders are now experts in. Fabricators today use composites on everything from ferries and boats to submarines and naval vessels.
---
---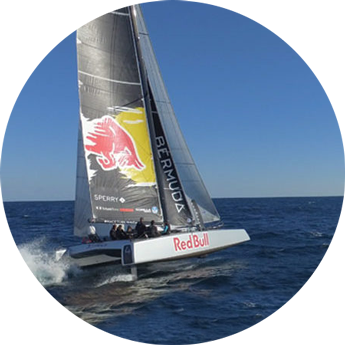 Durability in extreme environments
Corrosion resistance
Bonds well with other materials
Lightweight
Faster construction times
Low maintenance
Flexible in terms of color, shape and texture
Ability to be made fire-resistant
High strength-to-weight and stiffness-to-weight ratios
Low thermal conductivity
Low electrical conductivity
Long lifespans
---
Case Studies
---
Boston Whaler Outrage 420
---
Boston Whaler wanted to expand its line of fishing and pleasure boats to include the Outrage 420. The company found a solution in the manufacturing process for large composite blades used in wind turbines.
---
---
---
Gold Coast Yachts B53 Catamaran
---
When a sailing couple in Seattle wanted a sleek new catamaran, Gold Coast Yachts opted for CFRP to create the strong yet lightweight craft. The new B53 catamaran, a 53-foot, high-performance yacht, is made entirely of carbon fiber reinforced polymer. Learn More
---
---
---
Lexus Sports Yacht Concept
---
In early 2017, Lexus launched its new 42-foot Sport Yacht Concept. The design of the Sport Yacht concept seamlessly bonds the hand-laid woven carbon fiber composites upper deck and outer around the yacht's inner structure.