Utility Structures
---
The use of composites in poles and crossarms is rapidly gaining acceptance and use throughout the utility industry. Composite poles are increasingly being used for many distribution and transmission applications in both monopole and H-Frame configurations. Composites have proven they can accept most industry hardware and provide a compelling case as an alternative to wood, steel and concrete.
---
---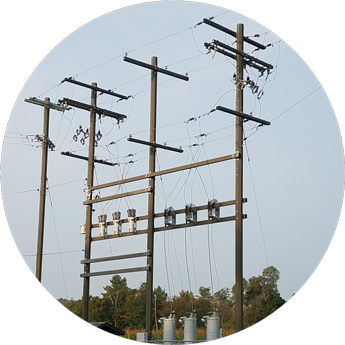 Termite resistance
Increased lifespan
Low maintenance
High durability
Design flexibility
More reliable in harsh conditions
Lightweight
Easily deployed
UV Protection
Applications and Products
---
Utility Poles
Transmission Poles
Telephone Poles
Power Poles
Traffic Poles
Distribution Poles
Towers
---
Crossarms
Tangent Crossarms
Dead End Assemblies
Case Studies
---
Appalachian Power Co.
---
A very wet snowstorm in December 2009 caused extensive damage in Charleston, W. Va., including approximately 1,000 broken utility poles. "Many of these poles were located in very rough terrain. Getting heavy equipment to some of these locations was almost impossible," says Tim Brammer, senior electrical engineer for Appalachian Power Co. (APCO).
---
---
---
BC Hydro
---
Nearly a decade ago, BC Hydro, an electric utility serving British Columbia saw that its transmission line stretching across 40 rugged miles along the northwest coast was nearing the end of its useful life. The wooden cross-arms supporting the conductors that transmit electricity were beginning to rot.
---
---
---
High Plains Power
---
A few years ago, High Plains Power in Riverton, Wyoming, was looking to replace the wood cross-arms on the company's H-frame structures with a product that can withstand the natural elements of the region. "Our lines are more than 65 years old," said Sid McDonald, manager of Operations and Engineering at High Plains Power Learn More