---
Composites vs. Other Materials in Transportation
---
For decades, automakers have relied on high-strength steel and aluminum to make vehicles, but today steel faces stiff competition from composites. Rising fuel costs, a need for streamlined designs, environmental regulations and the inherent design flexibility of composites have helped drive their increased use in transportation. Composites are now used in everything from passenger vehicles and heavy-duty trucks to today's advanced aircraft.
As one of the most lightweight, malleable metals, aluminum has been used extensively throughout the modern world, most notably in aerospace applications. In recent years, however, composites have begun to supplant aluminum. Half of the Boeing 787 is made from advanced composites, while the remainder of the plane is constructed primarily of a combination of aluminum, steel and titanium.
---
---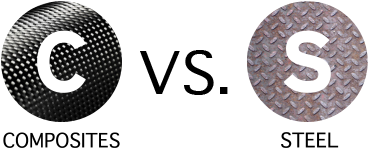 ---
Substantial weight reduction : Composites are typically 30-40% lighter than steel parts of equal strength.
Unrivaled corrosion resistance: Composites are superior in corrosion resistance for any transportation application.
Lowered manufacturing complexity: Finished assemblies with fewer parts cut manufacturing costs and often accelerate design completion and model introduction.
Reduced tooling cost: Tooling for composite parts can be as much as 80% less than comparable metal parts.
Unparalleled damage resistance: Composites' dent and ding resistance is far superior to that of steel.
Improved design flexibility: Unlike metals, composites offer a limitless "depth-of-draw" range.
Cost-effective solutions: Lower composite investment costs satisfy automakers' trends toward reduced builds per model.
Comparable aesthetics : Toughened SMC resin provides "first-time-through" processing comparable to steel.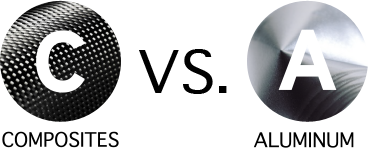 ---
Substantial weight reduction: By using composites to manufacture 50% of the Boeing 787's airframe, the aerospace leader knocked 20% of the weight off the aircraft compared to conventional aluminum designs.
Excellent at handling tension: In highly tension-loaded applications, such as the fuselage of airplanes, this helps decrease fatigue and maintenance. Aluminum is sensitive to tension loads.
One-piece designs : Fabricating a product in one piece reduces maintenance because there aren't any fasteners or joints.
Strong, yet flexible: Composites offer more flexibility and durability than standard aluminum ones. They can bend significantly without snapping.
Composites absorb vibrations: Because they are non-elastic, composites dissipate the energy of vibrations. Aluminum doesn't absorb vibrations as well as composites.