Equipment
---
Across the world, end users are looking for technologies that can help in the fight against corrosion. The direct costs of corrosion in 2014 were estimated at $540 billion in the U.S. and $2.3 trillion worldwide. For decades, the composites industry has been helping in this fight. Today, corrosion-resistant composites account for approximately 11 to 15 percent of the total composites market and generate an estimated $3 billion in annual sales. Customers who use composites have found composites result in lower corrosion costs compared to steel and aluminum.
---
---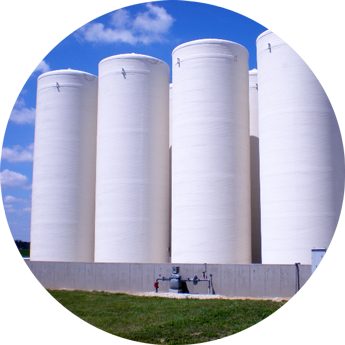 Corrosion resistant
Durability
High strength-to-weight ratio
Design flexibility
Elevated temperature service
Thermal cycling
Dimensional stability
High dielectric strength
Ability to consolidate parts
Longer lifespans
Applications and Products
---
Air pollution control
Aquaculture
Chemical processing
Desalination
Oil & gas
Water and wastewater treatment
Solid waste landfill
---
Pulp & paper
Rainwater collection
Ventilation
Cooling towers
Covers and hoods
Fans
---
Fan linings
Agitator liners
Quadrant dampers
Stack and stack liners
Vessels
Metering weirs
---
Case Studies
---
Carlsbad Desalination Plant
---
A plant that opened in 2015 in Carlsbad, California, is providing clean water to approximately 300,000 people, and composite piping plays a key role because of its material properties.
---
---
---
Removing Odors
---
The odors that emanate from water and sewage treatment plants make them unpopular neighbors. But Daniel Company is using composite biotrickling filters (BTFs) that remove odor in an environmentally friendly way.
---
---
---
Wet Scrubbers for Boeing
---
In wet scrubbing equipment, almost all types of corrosion, erosion, and temperature problems are encountered at some point. In 2012, Miles Fiberglass fabricated wet scrubbers that won't corrode for Boeing's Portland, Ore. facility. Learn More
---
---
---
Mineral Processing Equipment
---
FRP based upon epoxy vinyl ester resins has been used for decades to design corrosion resistant equipment for mineral processing environments. Learn More